Please take advantage of one of the community resources detailed below. If your business is participating in any resources during this time, please contact the chamber at (256) 734-0454 or send your information to Brittney Harris, Director of Membership & Community Development.
Testing
If someone has a fever, dry cough and shortness of breath and thinks they need to be tested, they should do one of the following:
 Call their primary care provider office – many offices are now offering telemedicine visits that might allow for pre-screening over the phone.
 For patients without a primary care provider, Cullman Regional offers the following:
FREE COVID-19 Virtual Care Screening: This is a free screening available through Cullman Regional's Virtual Care tool. Visit www.CullmanRegional.com/virtualcare to access this service.
Cullman Regional Urgent Care: Now offering Car Check in: When you arrive, Text CRMCUC to 256-242-5885 to check-in from your car. You will receive a text when we have a room ready for you. Urgent Care is open Mon-Friday, 9 am – 7 pm, Sat. & Sun. 9 am – 5 pm. Learn more at www.CullmanRegionalCheckin.com
Cullman Regional Emergency Department: Available 24 hours a day, 7 days a week. If you are experiencing severe shortness of breath, please call 9-1-1 or head to the Emergency Dept. Call (256) 737-2904and our staff will meet you with a mask outside of the entrance.
Cullman County Health Department Testing: Tests on Tuesdays & Thursdays from 1-3:30 pm. Call for Appointment: (256) 734-1030, Referral from Physician recommended, testing is free and will be done for patients who meet the current criteria.
Food Resources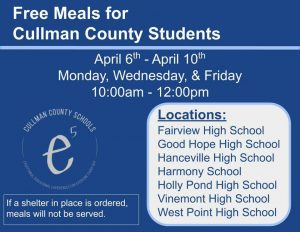 Working from Home
While there is a vast majority of the Cullman County community working from home, not all households have access to internet services. Charter Spectrum is implementing the COVID-19 Remote Education Credit offering free internet services for 60 days to Pre-K to 12, college student and teacher households. For more information, click here.