The "Coronavirus Aid, Relief, and Economic Security Act" or the "CARES Act will provide emergency assistance and health care response for individuals, families, and businesses affected by the 2020 Coronavirus pandemic.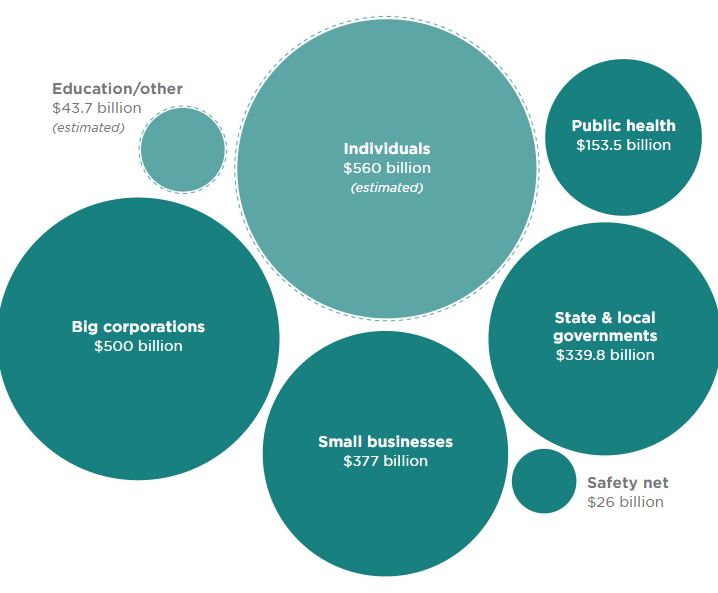 Information provided by: Congressman Aderholt and Senator Gudger 
Families
Families and individuals are going to receive immediate financial assistance, broken down by income:

The full credit amount ($1,200 individuals, $2,400 couples, $500 for children) is available for individuals with income at or below $75,000 ($112,500 for heads of household), and couples with income at or below $150,000. And if you have children, you will receive an additional $500 per child

$3.5 billion for childcare services
$900 million for Low Income Home and Energy Assistance Program
Small Businesses
$349 billion in funding for a provision to create a Paycheck Protection Program (PPP) that will provide small businesses and other entities with zero-fee loans of up to $10 million. Up to 8 weeks of average payroll and other costs will be forgiven if the business retains its employees and their salary levels.
$1.5 billion for Economic Adjustment Assistance, which will provide small businesses with capital
$562 million for the Small Business Administration to administer Economic Injury Disaster Loans
$50 million to help small and medium-sized manufacturers recover
501(c)3 non-profits are eligible for 7(a) loans
Employee Retention Credit will provide a refundable payroll tax credit equal to 50% of up to $10,000 in wages per employee paid by employers
Employers with 100 or fewer employees - all wages qualify for the credit no matter what
Community
$500 billion for the Treasury's Exchange Stabilization Fund to provide loans, loan guarantees, and other investments to assist severely distressed sectors of the American economy.
$150 billion for the Coronavirus Relief Fund to provide aid to state and local governments
Churches that are registered as 501(c)3 nonprofit are eligible to receive funds under the Paycheck Protection Program
$36.1 billion for the Department of Transportation to keep airports, transit systems, and passenger rail safe and operational. Â
$31 billion for K-12 schools, colleges, and universities
$15.8 billion for Supplemental Nutrition Assistance Program
$8.8 billion for Child Nutrition
$5 billion for Community Development Block Grants
$4 billion for Homelessness Grants
$1.5 billion for Economic Assistance Development Grants
$100 million for Emergency Management Program Grants
Hospitals/Healthcare Services/First Responders
$100 billion for hospitals (including our rural ones) and other health care providers
$1.5 billion for CDC Funding for State Public Health Departments
$1.1 billion for grants to emergency managers, firefighters, and state and local law enforcement
$425 million for the Substance Abuse and Mental Health Services Administration
$200 million for Emergency Food and Shelter Grants
Broadband
Congressman Aderholt sent a letter to President Trump last week asking that funds be included in this stimulus to address rural broadband.  He was excited and appreciative, that money will be allocated in every category requested.
$340 million for rural broadband:

$200 million for FCC's Connected Care Pilot Program
$100 million to provide financing for rural broadband through the ReConnect program
$25 million for the Distance Learning and Telemedicine programs
$15 million for Rural Telehealth Programs LHHS & HRSA
Agriculture
$14 billion replenishment of the Commodity Credit Corporation
$9.5 billion for farmers and ranchers affected by COVID-19
Veterans
$19.6 billion for the Department of Veterans Affairs, to be used for the following:

$14.4 to expand in-patient care and purchase test kits
$2.15 billion to expand telehealth
$2.1 billion for veterans receiving care for Coronavirus from community providers
$606 million for the VA to expand bed space and prepare temporary facilities
$150 million for state veteran homes to help them serve more patients
$2.8 million to support Armed Forces Retirement Homes