Percent Change in Cases from Previous 7 Days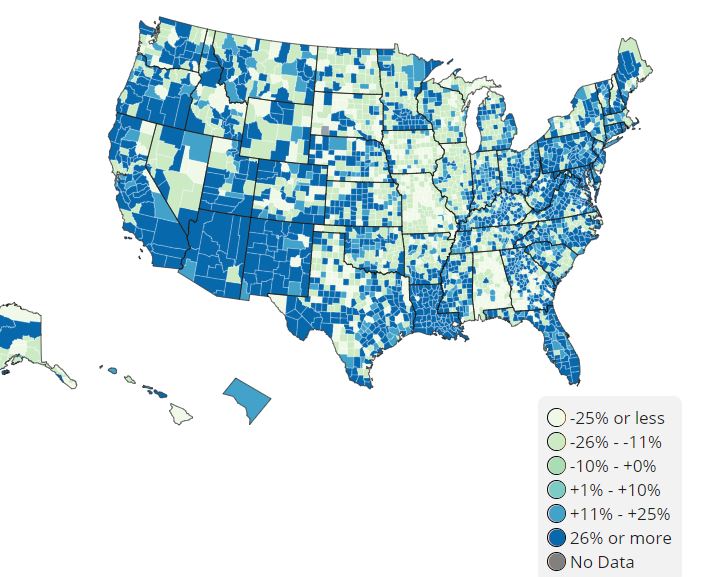 *Data is current as of 01/26/2021 -- 12:00 PM CST
COVID-19: U.S. at a Glance
*Data is received from Cullman Regional, Alabama Department of Public Health and the Center for Disease Control
Total cases: 23,982,584
Total deaths:  398,009
Number of Cases in Alabama: 429,655
Presumed Recoveries: 221,961
Number of Cases in Cullman County: 8,125
Number of Cases in Cullman County in the past 14 days: 739
Number of Tests done by Cullman Regional as of 1/19:
Total Number of Tests Given:     14,551
Total Positive Tests:                        2,277
Total Negative Tests:                      12,274
Total Pending Tests:                       0
COVID-19: Alabama at a Glance
2% Age 0-4
9% Age 5-17
13% Age 18-24
38% Age 25-49
21% Age 50-64
17% of positives are age 65+
39,504 patients hospitalized
2,493 patients are in ICU
1,423 patients are on a ventilator
4,492 work in a long-term care facility
9,779 residents long-term care facility
16,862 healthcare workers
(hospital or provider offices)
These numbers are totals since the beginning of COVID.
As information is given to the Chamber, we will continue to update this page regularly to ensure that the public has the most up to date information.
Cullman Regional Current Situation
53 COVID positive patients and 18 COVID currently on a ventilator and in Critical Care with 3 additional non-COVID patients on ventilators for a total of 21 patients on ventilators.
Cullman Regional has reported 149 COVID deaths to ADPH. Of these deaths, 104 were from Cullman County.
Pictured is a graph showing hospitalized patients across the State of Alabama. Hospitals across the state are starting to see a slight increase. Continue to be vigilant in mask wearing and social distancing.  Everyone should continue to follow precautions to prevent the spread of infection – wash hands, socially distance, wear a mask when you cannot social distance.  This information can be found on slide 9 of the ADPH Online Dashboard.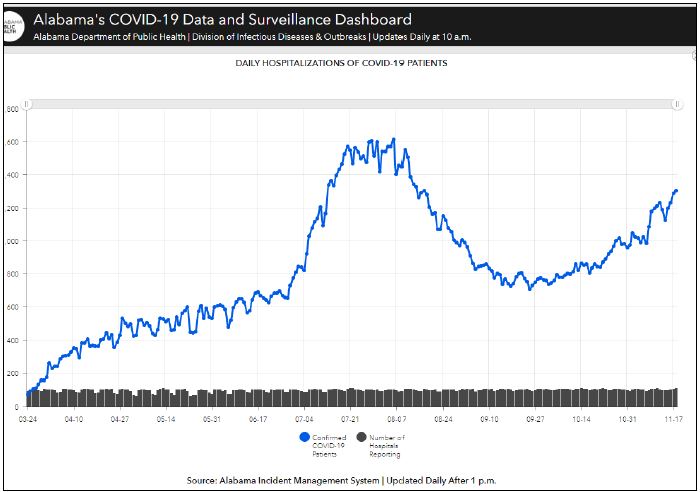 Vaccination Administration
Cullman Regional has received the COVID-19 Vaccine and is following the distribution plans outlined by ADPH.
Anyone who would like to be on the vaccine call list should go online to CullmanRegional.com/covidvaccine and complete the online form.
THIS IS THE FASTEST WAY TO GET ON THE LIST.  - Do this for your friends, neighbors, church members, etc. We update our call list daily to add anyone that has been added.
Please do not call or tell people to call Cullman Regional unless you cannot complete the form online. Our call volume is so high, we cannot answer and/or return all of the calls in a timely fashion.
We are currently scheduling community members over the age of 75 for vaccines and are scheduling based on date of birth, NOT first come, first serve.
We hold 3 vaccine clinics per week. All vaccines are given BY APPOINTMENT ONLY. We are scheduling as many people as we can safely for each of our community vaccine clinics.
We vaccinate between 250-300 people daily during the vaccine clinics.
Call List Statistics:
2,800: number of community members over the age of 75 on our call list from our primary service area.
9,887: number of community members on the Cullman Regional Community Call list.
Vaccine Administrations to Date:
2,998 vaccine doses given total
1,039 vaccines given to community members over the age of 75
476 to healthcare providers in a 40-mile radius
 Community Recommendations
Hospitalizations and number of patients requiring ventilators is concerning. Please remember to curb the spread by:
·         Wear a Mask at all times when around other people.

·         Encourage others to wear a mask.

·         Practice Social Distancing at all times in public.

·         Limit Gatherings to smaller groups

·         Stay home if sick
We understand that many are concerned about the spread of novel coronavirus (COVID-19), and what it means if you were to get it. Most people who get the virus do not require hospitalization and can recover at home with symptomatic treatment. Symptoms include cough, fever and shortness of breath. If you feel sick but can manage at home, stay home to help prevent the spreading of germs to others.
If your symptoms become unmanageable, call ahead. You can contact your primary care provider, Cullman Regional Urgent Care or Emergency Department. If you are concerned and have questions about COVID-19 and what you should do, you can call Cullman Regional's COVID-19 information Line at (256) 735-5530.
Cullman Regional is implementing REVISED Visitation Restrictions for patients effective immediately. Visitation restrictions include:
All Visitors MUST sign in at the Main Lobby Desk inside the Main Hospital Entrance.
Visitors with any respiratory illness will be given masks at the main entry desk.
All access into the hospital from Professional Office Buildings 1 & 2 will be badge access ONLY beginning at 6 am on 3/17/2020.
No visitors under the age of 16, even when an adult is with them. Cullman Regional will make exceptions for extraordinary circumstances which will be evaluated on a case-by-case basis.
No more than two visitors at a time per patient.
No visits for patients with suspected or positive COVID-19 diagnosis.
Visitation Hours will remain as 6 am until 8 pm.
Visitors will be required to sanitize hands when entering the hospital and when entering and exiting any patient rooms.
Anyone who has a fever, cough, body aches or sore throat should stay away from the facility unless they are seeking treatment.
COVID-19 Guidance for Employers
We understand that COVID-19 and the situational hurdles that it has brought have given employers hard decisions to make when it comes to their employees. Cullman Regional has complied a guidance sheet for employers when making decisions for their personnel in the workplace. Click here to see Cullman Regional's Guidance for Employers.
Cullman Regional Visitation & Social Distancing Recommendations:
Cullman Regional continues to be vigilant in protecting patients in our facility.
 No Visitors Allowed – patients are allowed 1 caregiver unless they have a positive COVID-19 test or suspected positive COVID-19 test pending.
 Patients can have up to 1 caregiver with them at all times during their hospitalization unless the patient is suspected to have COVID-19 or has a positive COVID-19 result.
 All Staff/Visitors are now required to wear a Surgical Mask when entering the facility. Homemade masks are allowed and appropriate for all visitors and non-clinical staff. Staff should discuss use of homemade masks with their directors if they have questions or concerns.
 Daily Temperature checks are required for anyone entering the facility. All physicians and clinical staff who are caring for patients in the hospital will receive a colored sticker to display on their badge to indicate they have had their temperature checked. Stickers will only be given out at the Main Hospital entrance to clinical staff caring for patients in the hospital. Colors for stickers change daily and must be updated each day.
 Community Members are encouraged to follow all current recommendations regarding social distancing, including:
o Maintaining a six-foot distance from anyone outside of your household
o Wear mask when you are unable to maintain a 6-ft. distance from others outside of your immediate household.
You think you need to be tested – what's next?
If someone has a fever, dry cough and shortness of breath and thinks they need to be tested, they should do one of the following:
 Call their primary care provider office – many offices are now offering telemedicine visits that might allow for pre-screening over the phone.
 For patients without a primary care provider, Cullman Regional offers the following:
o FREE COVID-19 Virtual Care Screening: This is a free screening available through Cullman Regional's Virtual Care tool. Visit www.CullmanRegional.com/virtualcare to access this service.
o Cullman Regional Urgent Care: Now offering Car Check in: When you arrive, Text CRMCUC to 256-242-5885 to check-in from your car. You will receive a text when we have a room ready for you. Urgent Care is open Mon-Friday, 9 am – 7 pm, Sat. & Sun. 9 am – 5 pm. Learn more at www.CullmanRegionalCheckin.com
o Cullman Regional Emergency Department: Available 24 hours a day, 7 days a week. If you are experiencing severe shortness of breath, please call 9-1-1 or head to the Emergency Dept. Call (256) 737-2904and our staff will meet you with a mask outside of the entrance.
o Cullman County Health Department Testing: Tests on Tuesdays & Thursdays from 1-3:30 pm. Call for Appointment: (256) 734-1030, Referral from Physician recommended, testing is free and will be done for patients who meet the current criteria.
Cullman Regional is now offering the COVID-19 Antibody test for patients. The test is currently being sent to the hospital's reference lab, Mayo Medical Laboratories. As with most information regarding COVID-19, there is still much unknown about this test and what it means. Cullman Regional has developed the attached educational information sheet to help providers and patients understand what the test may mean and doesn't mean.
COVID-19 antibody tests can be ordered through the Cullman Regional Outpatient Lab by physicians or is offered in the following Cullman Regional clinics:
 Cullman Regional Urgent Care
 Cullman Regional Family & Internal Medicine
 Cullman Regional Family Care South
Information is available by visiting CullmanRegional.com